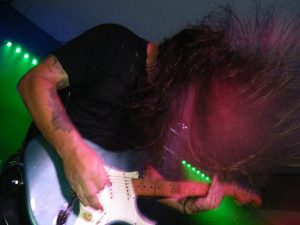 Born and raised in the woods of southern Virginia. Started playing guitar at age 13 and by the age of 15 was performing at live shows and house parties. The very first original heavy metal band to ever be apart of and form with some high school friends was t.i.l.t.i.d(today i live,tomorrow i die).
After things dissolved with t.i.l.t.i.d,i decided it was time to try my luck somewhere else. So with a little help from family, I made the move down to Bradenton Florida at age 18 and joined the band Sesso. I played with Sesso for a few years until that band dissolved. During that time I decided to play and learn a new instrument. I picked up a pair of drumsticks in 2004 and started pounding away. I played drums for 12 years or more in bands such as Warp, Klass klown, Fleas and flowers, Ceres and A Good Day to Die before deciding it was time to get back to my roots and where my heart lies in which that is playing the guitar. An old friend and I started a alternative rock band Solace and Ruin before changing to heavy metal band A Dying Light and the rest is history…
My musical influences are anything rock n roll from metal,alternative,blues,classic rock,southern rock.My current gear i use is black star 6l6 100 watt tube amplifier with 4×12 crate blue voodoo speaker cabinet.i currently play Ibanez s series guitar with digitech rp360xp multi effects processor and have been known to play Fenders,Gibson,Charvel and Washburn guitars.