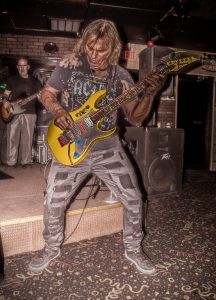 Born in Chicago I got Influenced early on by Black Sabbath, Ted Nugent, Van Halen, as well as Judas Priest. My Brother Dennis introduced me to guitar at the age of 16. I was able to "Catch on" pretty quick. As a couple years went by, me and my friends eventually put our first band together called THC. We would play all around the neighborhood there in South side Chicago.
Since we didn't have transportation at the time. Sometimes, we would wheel our amps down the street through the Chicago snow to get to our gigs. As I got to meet more musicians in my early 20s, we were able to play a lot of block parties and bars. Then my friend Mike got me a job setting up lights and sound for local bands. That's how I got to meet Molly Hatchet. That was a great experience for me.
I also worked as an Andy Frane (Usher), working all Chicago events and concerts. I got to see groups such as Jethro Tull, Uriah Heap, and Neil Young just to name a few.
As far as my gear, I play Line 6 Amps and an Ibanez Steve Vai JEM as a Schecter Hell raiser guitar and DR Strings.